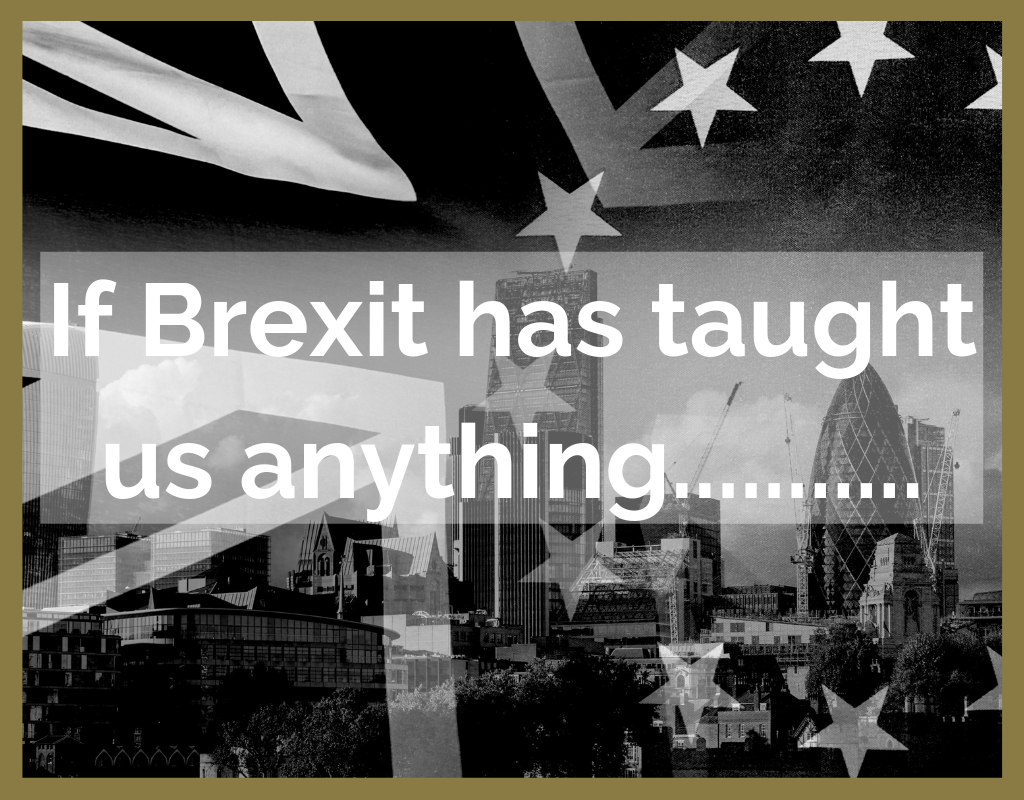 If Brexit has taught us anything
…it's that evolution is key. Every other industry has had to evolve over the last thirty years. The best, most capable and agile leaders have steered their companies through the trials and tribulations that economy, industry and geopolitical events have thrown at them. They have had to find new creative solutions that are often technology led, for themselves and their clients. These are actions that I don't see projected out of Westminster from a group of leaders that don't seem to have evolved themselves or their industry to meet the demands of modern politics or their customers.
Rant over. So how do you stay ahead of the evolution curve?
Know where you want to go
Know what you and the company are trying to achieve. Have a focused plan that is shared and, most importantly, understood by everyone in the organisation. If everyone knows what they are trying to achieve it is easier to find ways around the challenges and get back on track afterwards.
Create a collaborative environment
Guess what? Several minds are better than one. Whether you use full lean, six-sigma methodology to collect and implement ideas from all levels of the business, provide an ideas email address or hold regular innovation meetings, chances are the answer to your biggest challenges are in your business, but you may have to look outside the boardroom to find them.
Keep your ego in check
It's not always easy, especially if you are the founder or owner of a business to be comfortable not having all the solutions. If you can become comfortable surrounding yourself with good people, that might be more capable than you, your business will grow faster.
Get your head above the parapet
I met with an ex-colleague recently who has run his own business for the last ten years. Whilst it has seen steady growth, he was the first to admit that he hasn't embraced the latest innovations or kept up with industry developments as much as he could. His business would likely have been more successful if he wasn't caught up in his own internal environment. Make sure you are aware of innovation and developments in your industry, that you know who is providing the latest solutions that will help you help your customers.
Challenge the norm
The biggest restriction to evolution is the 'because we've all ways done it like that' excuse. Just because your customer has accepted your solution up until now doesn't mean they will stay with you. Just ask Blockbuster. Ask yourself what your customers want and need. How can we evolve our service offering to deliver better and more efficiently whilst providing our customer with the wow factor.
There are numerous ways to ensure your company evolves. I'd be happy to share some of my findings from working with various organisations over the last fifteen years. Feel free to contact me at craig.elvin@hawkerchase.com